The History Of Peace Sunday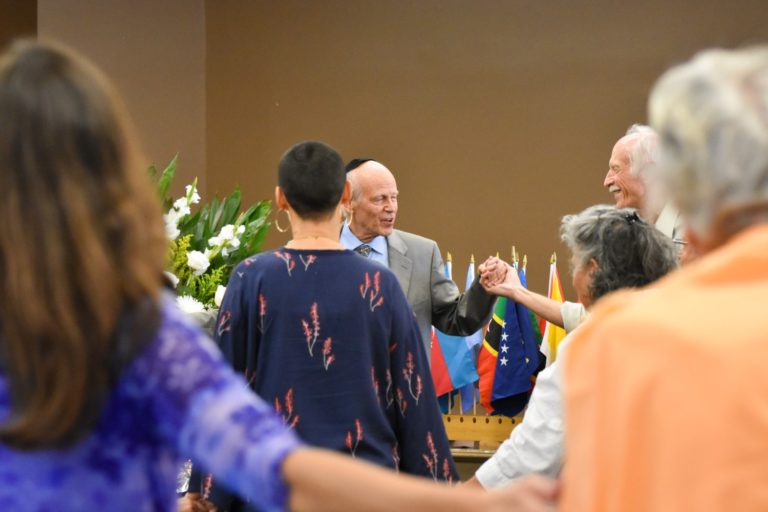 Peace Sunday, UDC's annual event that honors the United Nations International Day of Peace, (Sept 21), first began in 1982 and was produced by "The Year of Shalom Committees" as a protest against the arms race in support of the Nuclear Freeze Movement.
It was a huge event at the Rose Bowl. UDC founder, Rev. Leland Stewart was on the Year of Shalom Committee and later received the rights to the name.
We have continued the legacy since then with different themes every year in various locations.
To delve into the history of Peace Sunday, please watch the featured presentation below.
UDC EXECUTIVE EDITOR, STEPHEN L. FISKE ON HIS HOPES FOR PEACE IN THE FUTURE
Peace Sunday, held on September 18 at the IMAN Center in Palms, was a resounding success.
Established in 1982 at the Rosebowl, Peace Sunday has continued annually through the efforts of Unity & Diversity World Council.
The theme for 2016  year was Sustainability.
At the event,  he was interviewed for the IGM Art Gallery channel, he shared his thoughts about the current state of play in the world and his hopes for the future.
Peace Sunday has been held annually since 1999.
PURCHASE YOUR TICKET
TICKETS PRICES:
* General Admission: $15 if purchased by September 19 /  $20 at the door
* Students & Seniors: $10 if purchased by September 19 /  $15 at the door
* $35 Co-Sponsorship (includes: a display table, listed in printed program with a description of your organization and contact info, featured on social media promos and on our www.Peace Sundays.org website)
Early Bird Tickets
$15 USD