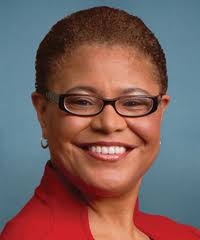 Congressmember Karen Bass was re-elected to her fifth term representing the 37th Congressional District in November 2018. Congressmember Bass serves on the  House Committee on Foreign Affairs where she is the Chair of the Subcommittee on Africa, Global Health, Global Human Rights, and International Organizations. As a member of the House Judiciary Committee, Congressmember Bass is also working to craft sound criminal justice reforms as well as protect intellectual property right infringements that threaten the economic health of the 37th District. Congressmember Bass also serves as the Chair of the Congressional Black Caucus.
During her fourth term, Congressmember Bass solidified leadership positions on two issues very close to her heart: reforming America's foster care system and strengthening the United States' relationship with Africa. In her first term, Congressmember Bass created the bipartisan Congressional Caucus on Foster Youth along with co-chair U.S. Representative Tom Marino (R-Pa.) and intends to examine national standards of care in the child welfare system.
In January 2013, President Obama signed into law the Uninterrupted Scholars Act (USA) which was the first major piece of legislation shepherded through the House under the Caucus' leadership.  The USA makes it easier for caregivers to access educational records so they can assist foster youth with school enrollment and provide additional academic support in an effort to reduce school dropout rates. Since 2012, she has joined Members of the Caucus for a Nationwide Foster Youth Listening Tour traveling the nation to examine best practices and the challenging conditions that foster youth face in our country. She is also a co-chair of the bipartisan, bicameral Congressional Coalition on Adoption.
On Africa, Congressmember Bass acted swiftly during her first term to bring legislators, advocacy groups, and international leaders together to extend the third-country fabric provision of the African Growth and Opportunity Act (AGOA), which supports stability, development, and economic growth of sub-Saharan African countries by protecting jobs in the apparel sector and providing some of the best markets for American businesses to sell their goods and services.
In an effort to be responsive to the people in her district, Congressmember Bass created the Congressional Council, which provides an opportunity for constituents to learn firsthand about the issues in Congress and how to become involved in the legislative process. The Council, composed of all volunteers, seeks to engage other District residents in public policy, both domestic and internationally.
Prior to serving in Congress, Bass made history when the California Assembly elected her to be its 67th Speaker, catapulting her to become the first African American woman in U.S. history to serve in this powerful state legislative role. Congressmember Bass served as speaker during California's greatest economic crisis since the Great Depression. In addition to helping to navigate the state through a very difficult time, she also championed efforts to improve foster care and quality healthcare for Californians. Also, under her leadership, the Assembly fast-tracked federal economic stimulus legislation that aided Californians who have been affected by the national economic crisis as well as jumpstarted billions of dollars of infrastructure projects.
Before serving as an elected official, Congressmember Bass became interested in community activism as a child watching the Civil Rights Movement with her father. It was at that time that she made a lifetime commitment to effecting social change in her community and abroad. She worked for nearly a decade as a Physician Assistant and served as a clinical instructor at the University of Southern California's Keck School of Medicine Physician Assistant Program.
In 1990, in response to the crisis that was gripping inner-city America, which in Los Angeles was crack-cocaine and gang violence, Congressmember Bass started and ran the Community Coalition, a community-based social justice organization in South Los Angeles that empowers residents to become involved in making a difference. Through her leadership at the Community Coalition, Congressmember Bass worked to address the drug and violence epidemic and to engage community residents in addressing the root causes of injustice.
She grew up in the Venice/Fairfax area of Los Angeles and is the only daughter of DeWitt and Wilhelmina Bass. She graduated from Hamilton High School, Cal State Dominguez Hills, and the University of Southern California's School of Medicine Physician Assistant Program.