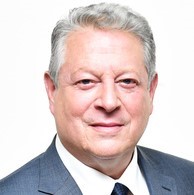 Albert Arnold Gore Jr. is an American environmentalist, politician, and was an elected official for 24 years, serving as the 45th vice president of the United States for two terms under the Clinton administration. He was the subject of the Academy Award-winning documentary An Inconvenient Truth in 2006, and in 2007, Gore was awarded the Nobel Peace Prize, along with the Intergovernmental Panel on Climate Change, for "informing the world of the dangers posed by climate change."
Other awards include a Grammy Award for Best Spoken Word Album for his book An Inconvenient Truth, a Prime-time Emmy Award for Current TV, and a Webby Award. Gore negotiated and strongly supported the Kyoto Protocol to reduce greenhouse gasses, is the founder and current chair of The Climate Reality Project, the co-founder and chair of Generation Investment Management and the now-defunct Current TV network, a member of the Board of Directors of Apple Inc., a senior adviser to Google, and a partner in the venture capital firm Kleiner Perkins, heading its climate change solutions group.
Gore's 2007 book, The Assault on Reason, is an analysis of what Gore refers to as the "emptying out of the marketplace of ideas" in the civic discourse during the Bush administration. He attributes this phenomenon to the influence of television and argues that it endangers American democracy.