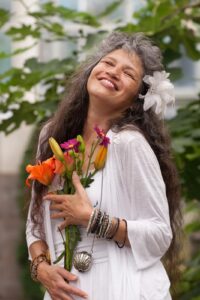 Aunty Pooki Lee A beautiful soul flower is what comes to mind when you hear or meet the inspiring Pooki Lee. She is of Hawaiian descent and respectfully carries her roots truly bringing the spirit of Aloha wherever she goes. Pooki Lee was chosen as the Vision Keeper for Unity Earth in 2020 after returning from the sacred trip to the Holy Land with Global leaders from around the world. It was unanimous that Pooki Lee be appointed the second person only into this position. An honor in which she holds sacred to her mission and vision for the Earth.  Pooki's prayers and ceremonies are deeply felt as she holds the vision for peace love and unity for all of mankind and beings everywhere. Deeply connected to the "aina", the land, Pooki celebrates all of life in reverence and honor for the Creator"
Some past creations of Pooki's are in 2008 founded and directed the Gateway to Agape Choir under the blessing of Rev. Michael Beckwith and the inspiration of the Agape International Choir. The choir has been a voice of love, healing and hope here in St. Louis. After the unrest in Ferguson Pooki started a movement that birthed "St. Louis Missouri, Love Capital of the World" and the anthem song "I Am Responsible." Feeling called to consciously activate the power of LOVE, Pooki organized two Love Activations under our historic Gateway Arch at the banks of the Mighty Mississippi all to inspire a vibration of love rippling out to the world.
Pooki believes that Aloha is the Answer and her commitment to inspiring move love in the world is her passion. Pooki is a mother, a daughter, a sister and a grandmother. Her love for her heritage runs deep. Dancing hula since the tender age of 2, Pooki is a third generation hula teacher/dancer. Pooki is now working closely with her mother and sister to bring the sacred divine living art of the hula forward to be shared with our global Ohana.
You can find out more about Pooki at 
Facebook https://www.facebook.com/pooki 
Hear her music at 
https://soulmassage.bandcamp.com/