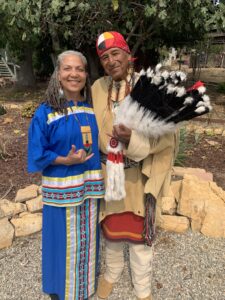 Clan Mother Alda Glover is a Producer of One Global Family's Call To Action Broadcast Series ~ "SACRED ACTIVISM: Peace Sundays RevoLution."  She is also a Board Member for both One Global Family Foundation & Alliances, as well as Unity and Diversity World Council.  Born in Newton MA, USA, Alda C. Glover's ancestry is African of nations unknown, and Passamaquoddy and Mashpee in the northeast of North America. After a 16-year career as a technical writer, Alda left the corporate world to study traditional Asian healing arts and experienced Qi as a physical awareness rather than just a concept. As the healing arts and philosophies began unfolding, Alda was introduced to Native American traditions and the profound experiences born of participating in ancient ceremonies.
An awareness of purpose evolved, and the interconnection of all things became clear: We are all meant to attune and harmonize with creation as individuals, each with our own purpose. 
Becoming a Shiatsu-Anma therapist and instructor was a way to introduce others to these experiences. To help others achieve physical, energetic, and emotional balance, a calm perspective and an awareness of Qi to enhance the awareness of connection to Spirit.
Alda volunteers and serves on the board of directors of Morning Star Foundation to work honoring and preserving indigenous traditions and ceremonies, knowing that they serve to restore health and ensure the future of Humans, our relatives, and this living planet that supports us.
Back to Producers & Speakers 2021 Page
Back to Producers & Speakers 2020 Page