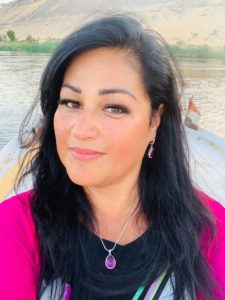 LauraSa Pele Lafoia Ava is the Executive Producer & Director of One Global Family's Call To Action Broadcast Series ~ "SACRED ACTIVISM: Peace Sundays RevoLution."  LauraSa served as the Chair and Producer for Peace Sunday 2020, and Co-Chair for past Peace Sunday events.  She is also the Chair on the Board of Directors, President & Chief Executive Officer (CEO) for Unity and Diversity World Council (UDWC 2.0.)  She is the Founder & CEO for two of UDWC's Affiliate DBA's known as One Global Family Foundation & Alliances (OGFF&A), and the International Councils & Congress of Women-Youth (ICCWY). Her other responsibilities for these non-profit organizations also include serving as the Committee Co-Chair for Governance, Finance, and Strategic Planning. LauraSa is a Committee Advisor for the Unity and Diversity Interfaith Ministry (UDIM).
BIOGRAPHY:
LauraSa Pele Lafoia Ava is a Pacific American businesswoman, philanthropist, global peace activist, community organizer, producer, and motivational speaker. She was born in the village of Pava'ia'i, Pacific Island of Tutuila, American Samoa. She lived in Oahu, Hawaii, and currently resides in Southern California-USA. She is a steward of Mother Earth, dedicated to causes that promote indigenous rights, Eco-justice, empowering women, education/nutrition of underprivileged children, strengthening families, and uplifting communities. Most importantly, LauraSa is mother to Brittany Pele, grandmother to Nakoda Mike, and has been blessed with four foster children and many orphans. She was a devoted wife of 33-years to her late husband Foimai "Mike" Tesimale, a beloved servant leader.
LauraSa's professional career spans 30+ years in Mortgage Banking holding positions such as Branch Manager, Account Executive, Corporate Executive, Government & Investor Relations, Consultant… managing corporate operational divisions & production branches of multi-billion-dollar real estate lending firms. Since 2000, she also started AVA Consulting & Management, and in 2001 became the Founder & CEO of One Global Family Foundation (a DBA of UDWC). In 2015, she also founded the Councils of Interfaith & Indigenous Women-Youth. And in July 2018, she became the COO & Shareholder for Fazit.com, Inc. (Faz Technology) and was recently promoted to Chief Global Relations Officer. In June 2020, LauraSa was elected as Board Chair/President & CEO of Unity and Diversity World Council (UDWC 2.0) after serving five years as the Co-Chair. 2020 is UDWC's 55th Anniversary as an Interfaith Peace Building Church, Charitable, and Educational non-profit organization.
LauraSa has extensive experience serving on boards. She is an active leader for several humanitarian, interfaith and indigenous organizations that work in alliance with the global Parliament of the World's Religions, United Religions Initiative, Orange County Interfaith Network, the OC & LA County Sheriff's Interfaith Advisory Councils, etc… She currently serves as a Global Ambassador for Free Wheelchair Mission since 2006 (serving the disabled poor in 93 countries); and as a Global Ambassador & Director of the Pacific Region for GiveLight Foundation since 2008 (building sustainable orphanages, providing scholarships & sponsoring orphans worldwide). With God's grace and through the collaborative impact efforts of her One Global Family Foundation & its NPO partners such as LDS, FWM, MS, GL, UCO, VICC, SARAH, BTC, PICP, ORC, GCH… many underprivileged children, families, refugees, homeless & disabled poor are served and uplifted, locally and globally since 2001.
Click below to learn more about LauraSa's Interfaith Journey (aka Laura Lafoia Ava-Tesimale):
How a Samoan Mormon Became a Global Interfaith Activist
Back to Producers & Speakers 2021 Page
Back to Producers & Speakers 2020 Page