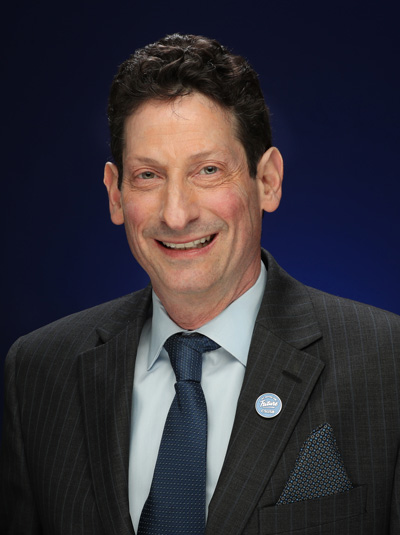 Prejudice, violence and tribalism have always been with us. But the work of Brian Levin, director of the nonpartisan Center for the Study of Hate and Extremism (CSHE) and a professor of criminal justice at Cal State San Bernardino, has done incalculable good in fighting these destructive forces through the power of ideas. His decades of scholarship in collecting and analyzing data about these heinous acts has been a first, essential step to understanding the behavior and those who perpetrate it—and to stopping them.
To call Professor Levin's background diverse would be an understatement: In the 1980s, he was an award-winning New York City police officer working in Harlem and Washington Heights in Manhattan. He has also been a corporate litigator, legal director for the Center for the Study of Ethnic and Racial Violence and associate director of legal affairs for Southern Poverty Law Center's Klanwatch/Militia Task Force in Montgomery, Alabama.
Since his arrival at CSUSB in August 1999, Levin's work as an educator has focused on teaching and advising students on criminal law and procedure, national security and hate crime. But he serves other audiences as well, assisting legislators, law enforcement, community groups and academia by authoring and conducting accredited trainings as well as through policy and legislative analysis.
In response to demand, since 2016, Levin has led the compilation of frequent reports on hate crime, terrorism and extremism, initially from the data routinely analyzed at the CSHE. Most important, he shares the information widely, making him a highly influential and respected resource to policymakers; Levin and his team have participated in the drafting and endorsement of numerous legislative bills. His team also uses data to factually disprove widespread misinformation used to influence public policy.
A prominent expert on hate and extremism worldwide, Levin has authored influential Supreme Court briefs. He is frequently interviewed on TV and for newspapers and has given presentations to the United Nations Special Rapporteur on Anti-Semitism, the Federal Bureau of Investigation and the Organization for Security and Co-operation in Europe, among others. He serves, too, as a board member on both the California Association of Official Human Relations Organizations and the National Coalition for the Homeless.
Levin received his bachelor's degree with multiple honors in history from the University of Pennsylvania and his juris doctorate from Stanford Law School, where he was awarded the Block Civil Liberties Award. He is a member of the State Bar of California and Supreme Court of the United States.