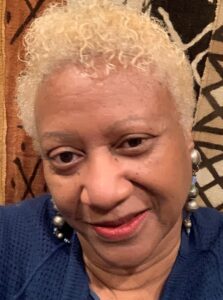 Rev. Carolyn Wilkins is the Minister and Spiritual Director of Inspirational Ministries, a virtual New Thought Spiritual community, and the founder of Imagine Consulting, a personal development consulting company. Rev. Carolyn spent 10 years as a staff minister for Agape International Spiritual Center, under the leadership of Rev. Dr. Michael B. Beckwith, and as the director of their GlobalWorks Ministry. These global humanitarian programs provide support for food, training/schools, libraries, orphanages, hospitals, clinics, homes for unwed mothers, micro-loans, financial support during natural disasters, and human advocacy in 8 African countries, Afghanistan, Bosnia, Colombia, Ecuador, India, Iraq, Kosovo, and Sri Lanka                                                                                           
Rev. Wilkins is a minister, featured speaker and workshop leader on nonviolence, inclusivity, social justice, and ethical and spiritual leadership for organizations and global conferences. She is a convener of community dialogues and a lead facilitator for mediation and mindfulness programs. She chaired the Culver City Area Interfaith Alliance and been on program or advisory councils for UDC, LA Voice, LA Interfaith Council, Association for Global New Thought (AGNT), United Religions Initiative, Compassionate California, Compassionate Arts and Parliament of the World's Religions.
Wilkins was a marketing executive with Xerox Corporation and General Electric, and a project manager for an Oprah Winfrey Network program. She earned an MBA in management, a masters degree in Transformational Leadership and completed Doctoral studies in Ministry and Spirituality.
Contact:  [email protected]
www.inspirationalministries.org
www.racialhealinginstitute.org
FB Group:  Sacred Inspiration