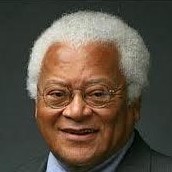 Dr. Reverand James Morris Lawson Jr. has been a Methodist minister for more than 50 years, an American activist, and a university professor. While in college, he was convicted of Korean War draft evasion, and sentenced to two years in prison. After serving 13 months of his sentence, he returned to college and finished his degree. Lawson joined the Congress of Racial Equality and Fellowship of Reconciliation, America's oldest pacifist organization, where he was first exposed to the nonviolent teachings of Gandhi. After three years as a campus minister and teacher in India, he returned to the U.S., entered Oberlin College Graduate School of Theology, and met Dr. Martin Luther King Jr. Lawson moved to Nashville and began teaching nonviolent protest techniques at Vanderbilt University.
He was expelled in 1960 for civil rights arrests, finished his degree at Boston University that same year, and became pastor of the Scott Church in Shelbyville, TN. Lawson served as a mentor to the Nashville Student Movement and the Student Nonviolent Coordinating Committee, pastor of Centenary Methodist Church in Memphis, and co-founded the Committee on the Move to Equality (COME).
In 1968, when black sanitation workers began the Memphis Sanitation Strike for higher wages and union recognition, he invited Dr. King to speak. On the eve of his assassination, King called Lawson "the leading theorist and strategist of nonviolence in the world." In 1974, Lawson moved to Los Angles to be the pastor of Holman Methodist Church, spoke out against racism, challenged the cold war and U.S. military involvement throughout the world, and protested with the Janitors for Justice in Los Angeles, and with gay and lesbian Methodists in Cleveland.