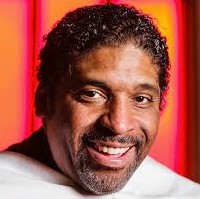 Reverend William J. Barber II is an American Protestant minister and political activist, who was elected president of the local NAACP youth council at the age of 15 and at 17 became the student body president of his high school. He enrolled at North Carolina Central University, became student government president at age 19, received his BA in political science from NCCU, cum laude; a Master of Divinity degree from Duke University; and a doctorate from Drew University with a concentration in public policy and pastoral care.
He has been the pastor of the Greenleaf Christian Church (Disciples of Christ) in Goldsboro, NC since 1993. Barber served as president of the NAACP's North Carolina state chapter, the largest in the Southern United States and the second-largest in the country until 2017, to lead "a new 'Poor People's Campaign'", named Poor People's Campaign: A National Call for a Moral Revival, in honor of the original 1968 campaign founded by Martin Luther King Jr.
He serves as an NAACP national board of the NAACP and the chair of its Legislative Political Action Committee, the President and Senior Lecturer at Repairers of the Breach, and co-chair of the Poor People's Campaign. Barber was awarded an honorary doctorate from Drew University, his alma mater, delivered the university's sesquicentennial address at commencement exercises and was awarded an honorary doctorate from Occidental College in 2017. He was named a MacArthur Fellow (popularly known as the "Genius Grant") for "building broad-based fusion coalitions as part of a moral movement to confront racial and economic inequality" in 2018.