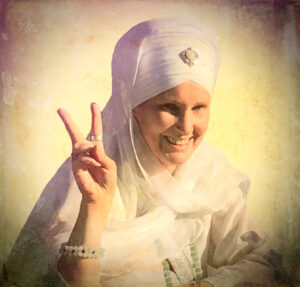 Simran Kaur serves as our graphic artist to support the Website, Social Media & Marketing teams for Peace Sundays. Simran is an Advisory Board member for Unity and Diversity World Council (UDWC 2.0), and also as such for two of its Affiliate DBA's known as One Global Family Foundation & Alliances (OGFF&A), and the global Councils of Interfaith & Indigenous Women-Youth (CIIWY).
Born in Los Angeles, Simran Kaur spent her formative years in France, returning to the United States at age 21. In addition to English, Simran Kaur speaks French and German.
She is a Sikh Dharma Minister, a spiritual counselor, an energy healer, and a Kundalini Yoga teacher.
As a Sikh Dharma Minister, Simran Kaur is very involved with her Sikh community and in outreach with various interfaith groups since 2001. In Los Angeles, for thirteen years, she collaborated with different Interreligious Councils throughout Southern California, such as the Culver City Area Interfaith Alliance, the Interreligious Council of Southern California, Unity-and-Diversity World Council, the Women's Interfaith Committee, South Coast Interfaith Council, and the Southern California Committee for the Parliament of the Worlds Religions.
Simran Kaur feels that it is a privilege and a blessing to be able to interact and dialogue with religious representatives and leaders of other faiths, creating bridges of understanding and awareness that bring all hearts together.