Fl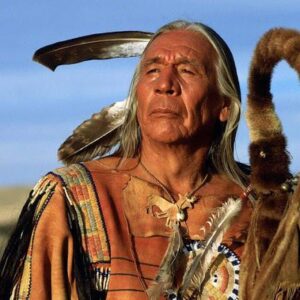 oyd was a member of the Sisseton-Wapheton Sioux Tribe of South Dakota.
Red Crow majored in art and speech & Theatre at Northern State University in South Dakota. After graduating, he embarked on a successful music and acting career. Along with his memorable role as Ten Bears in the Academy Award TM winning film, "Dances with Wolves," he has appeared in over 50 movies and television shows including such hits as "The Doors", "Hidalgo", "The X-Files", "Walker, Texas Ranger"… and many others.
Mr. Red Crow's musical resume includes two full-length albums, one of which features the title song, "Custer Died for your Sins," based on the popular book by renowned Native American scholar/historian/activist, Vine Deloria, Jr. Red Crow has performed all over the world, successfully incorporating music into his longtime career of activism. His advocacy work includes the American Indian Movement, the 1977 Tour Against Nuclear Arms with Harry Belafonte, touring with Sting to publicize the decimation of rain forests and their residents, testifying at the World Uranium Hearing in Salzburg in 1992, and serving as founder and executive director of the Eyapaha Institute, a non-profit corporation devoted to address racism, discrimination, depredation and genocide of indigenous peoples throughout the world.
Among his many accolades, Red Crow has received the Award for Generosity by the Americans for Indian Opportunity, a Congressional Certificate of Special Recognition was named Cultural Ambassador by the International Indian Treaty Council, and named Indian Celebrity of the Year in 2000 by the American Indian Exposition.
Floyd Red Crow Westerman made his transition to the Spirit World on December 13, 2007. He was survived by his wife Rosie Westerman, five children, brothers, sisters, and many Takosha's.